Our Founder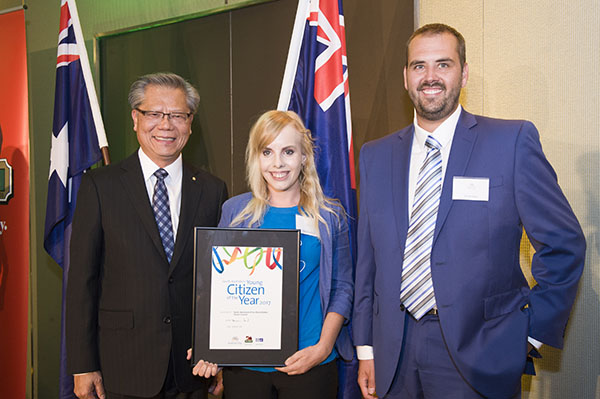 South Australian Young Australian of the Year, Kids Arthritis Founder, and CEO Sarah Freeman is a strong, courageous and influential young woman.

At 18 months of age Sarah stopped walking after only walking for 8 weeks and went back shuffling again. Any parent would know that this is not normal, and Sarah was taken to her local GP who then referred her to the Womens and Children's Hospital, an hour away from her home. From there, there were many scans, tests and tears to try and figure out why this was happening. Eventually the results came back diagnosing her with Juvenile Arthritis. Sarah's mother and father were lost, confused and alone. With nowhere to turn, their community supported them.

This used to be the story of so many, until at age 19, Sarah spoke up for all the children, families and carers like her, living with Juvenile Arthritis. She decided to found Kids Arthritis. There was finally hope for those who were experiencing Juvenile Arthritis.

Sarah has grown up in constant pain, weekly appointments, daily medication use, monthly infusions and a feeling of being very alone. She has had many near death experiences, spent many days of her life in hospitals for tests, operations and appointments. All of this is very traumatic yet life shaping.

Sarah advocated through other organisations for change with limited results. However, once she founded Kids Arthritis, Sarah changed countless lives not just here in Australia, but worldwide. Finally giving a voice and providing support to those who once felt alone.

Sarah, like all members of Kids Arthritis, is a volunteer. This is what she does, and she loves it. Everything she does through Kids Arthritis, she does for these children, and their families and carers who reach out daily for support.

Sarah is continuously recognised for her work by many Australia wide awards and also through media coverage.

Juvenile Arthritis does not affect Sarah anymore, however the effects of the medications still linger. On top of this, she is currently legally blind, but like everything else, this does not hold her back. She is now aware that others don't constantly live in pain, don't need to have medication to live and can do activities without support of others. This was Sarah's life for 25 years, and now she shares this with those she supports.

Sarah and the Kids Arthritis Ambassadors know what those reaching out to Kids Arthritis need, as they have lived with, or are living with Juvenile Arthritis themselves. This makes us different.

Outside her charity, Sarah is married, enjoys bike riding, spending time with her family, and sharing peoples stories through the podcast 'Life Bursts', with Matt and Sarah, which is also played across Australian radio stations.